You are here
5 Reasons to See a Washington Redskins Game at FedExField This Fall
5 Reasons to See a Washington Redskins Game at FedExField This Fall
Watch one of the NFL's most historic franchises at a state-of-the-art stadium just outside of the nation's capital.
It's that time of year again! Football season is here, which means Washington, DC has a fever for the local team. Washington is led by head coach Jay Gruden, who embarks on his sixth season at the helm with high expectations. The 'Skins will look to reach the Super Bowl for the first time since 1992. Here are a few reasons to enjoy their quest in person at FedExField – then don't forget to score tickets to the big game while you're in town.
1
The offense has an array of playmakers
With the injury of veteran signal-caller Alex Smith last season, the 'Skins re-tooled at the quarterback position with Case Keenum under center and rookie Dwayne Haskins – who the team took 15th overall in this year's draft – backing him up. Keenum leads a unit that also features running backs Derrius Guice and the Hall-of-Fame-bound Adrian Peterson, as well as exciting rookie wide receiver Terry McLaurin, who has already earned the nickname "Scary Terry" for his blazing speed. These welcome acquisitions add to a Gruden-led offense that already boasted tight end Jordan Reed and explosive wide receiver Paul Richardson, Jr.
2
The defense has been revamped…and is ready to rumble
There's room for improvement with Washington's defense after last season. Enter first-round draft pick Montez Sweat (26th overall) out of Mississippi State, an edge rusher who joins safety Landon Collins as strong new additions to the team's defensive core. A standout last year, former first-round pick Daron Payne returns at nose tackle, while veterans Josh Norman and Ryan Kerrigan round out this exciting unit.
3
Rivals and powerhouses will come to town
The home game slate starts with the Dak Prescott-led Dallas Cowboys on Sept. 15 (1 p.m.), with many more can't-miss matchups to come. In week five (Oct. 6, 1 p.m.), former NFL MVP Tom Brady leads the reigning Super Bowl-champion New England Patriots into FedExField, while Le'Veon Bell and the New York Jets visit on Nov. 17 (1 p.m.). Of course, other NFC East rivals are also on the schedule, as the Philadelphia Eagles roll into town on Dec. 15 (1 p.m.) and the New York Giants visit the following week on Dec. 22 (1 p.m.).
4
Enjoy gameday with a die-hard fanbase
Washington has one of the most loyal and dedicated fanbases of any team in any sport. Pre-game festivities can begin as early as 7 a.m. for a 1 p.m. game, with thousands of fans tailgating to their heart's content in the lots that surround FedExField. Once inside, every home team touchdown is met with raucous cheers and a rendition of the decades-old fight song, "Hail to the Redskins."
5
FedExField has exciting new amenities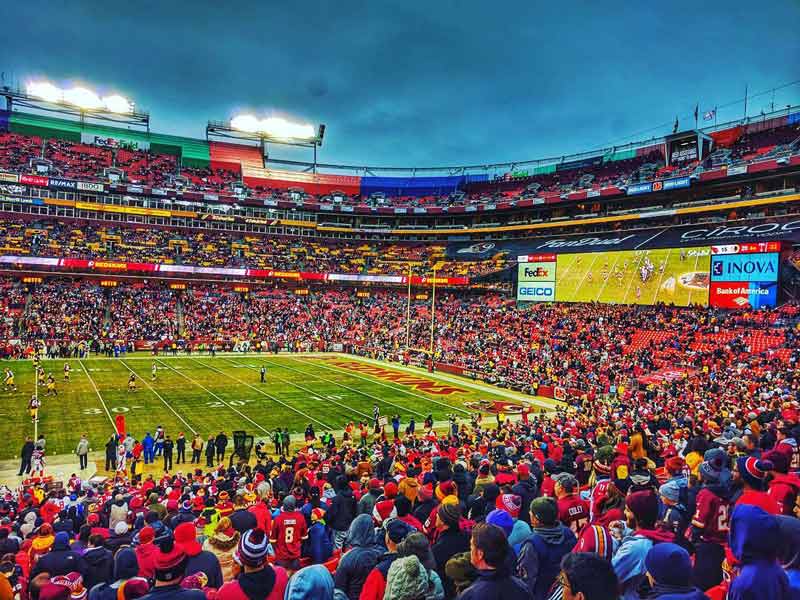 This season, FedExField has added a new Bud Light Party Pavilion and Concourse in the east end zone of the stadium. The new area, which is available to all fans in attendance and opens three hours before kickoff, offers a 90-foot bar and live music. FedEx has also revamped its food menu. Fans can enjoy celebrity chef Guy Fieri's new concession stand, aptly named "Chicken Guy," as well as healthy new options like a veggie chili dog and vegan chili from DC insitution Ben's Chili Bowl.