You are here
10+ Great Sports Bars & Restaurants in Washington, DC
10+ Great Sports Bars & Restaurants in Washington, DC
These sports bars draw crowds with huge TVs, special discounts and free-flowing beer.
When the big game is on, it's time to cozy up to a bar, order a brew and some apps and enjoy. We've compiled a great list of bars and restaurants that make for the perfect sports-watching experience in Washington, DC.
Due to the coronavirus pandemic, many restaurants and bars have restrictions and protocols on in-house dining. Please ensure you're practicing safety and get advance reservations if available. If you'd like to watch the game from your hotel room or home, consider these takeout and delivery options.
1
Penn Social

This 13,000 square-foot subterranean spot is a fun place for sports thanks to a game-focused setup that includes trivia nights, cornhole leagues, beer pong tournaments, shuffleboard, foosball and giant Jenga. But on game days, you can catch the action on a huge 22-foot movie screen or on nine 10-foot screens around the space.
2
Yard House

Yard House has quickly become of the most popular gathering places in DC's Penn Quarter/Chinatown neighborhood. The restaurant and bar is perfect for a night out with friends. Select a brew from 110 taps or savor one of Yard House's 100 specialty cocktails. Expect numerous TVs to be tuned to the big game with plenty of sports fans on-hand.

3
City Tap House

This gastropub, with locations in the heart of Penn Quarter and Dupont Circle, provides plenty of craft beer, plenty of hospitality and a food menu plentiful with innovative takes on classic bar dishes (corn and crab hushpuppies, Korean short rib tacos, blue crab mac and cheese). Its rustic and open setting is perfect for kicking back and enjoying a game.
4
Nellie's Sports Bar

We're willing to wager that this is the only sports bar in town to host a jam-packed drag queen brunch each Sunday (it's also one of the city's top gay bars). But after the brunch crowd has gone home, the place reverts to one of the city's finest spots to watch a game. Multiple TVs on both floors mean you'll be able to catch all the action on gameday.
5
Franklin Hall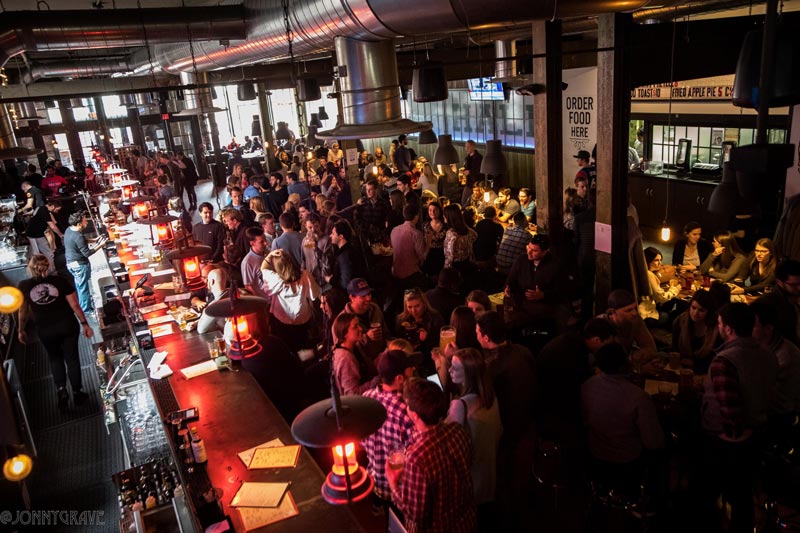 Located in the historic Manhattan Laundry building just north of U Street, the expansive Franklin Hall is your go-to spot for large group gatherings for the big game. The beer hall features a 60-foot bar with rotating drafts, as well as board games and a walk-up kitchen with bar food classics.
6
Church Hall

Over in historic Georgetown is Franklin Hall's sister bar, Church Hall, which channels similar game day vibes with nearly 20 TVs. Cozy up to one of the multiple fireplaces in this 7,000-square-foot bar and enjoy boozy slushies and plenty of beers on tap as you watch the game. Make note of weekday happy hour specials for a return visit.
7
High Velocity

Found inside the Marriott Marquis Washington, DC, this vibrant sports bar should be at the top of your list for catching a game. Forty large flat-screen HDTVs line the walls, and you can settle in with your pals at the communal tables. The bar menu has everything you could possibly ask for, while a selection of nearly 50 beers on tap (from imports to local favorites) means you're set up for quite an evening of sports-watching bliss.
8
Blackfinn Ameripub

Eat, drink and be lively is the motto at Blackfinn Ameripub, a Downtown DC sports bar focusing on American pub fare and game day specials. Choose from happy hour deals like Nashville hot chicken sliders or flatbreads for under $10, paired best with a novelty beer tower.
9
Mission Navy Yard

Just across from the Centerfield Gate at Nationals Park lies happy hour and sports haven Mission Navy Yard, a massive two-story restaurant with four bars (including one that's 150 feet long) and a robust rotation of 16 draft beers. The space is perfect for watching sports with a side of tacos and tequila.
10
Clyde's of Gallery Place

Clyde's has been a staple of DC since its Georgetown location opened in 1963, and the Gallery Place rendition dazzles upon entering. The two-level spot features three bars and a strong sports theme – a portrait of Babe Ruth greets you upon entering. Clyde's regulars rave about the chili, the Buffalo wings and the burgers. Expect a lively crowd, too.
11
Ivy and Coney
If you can't make it to Wrigley Field during baseball season, Ivy and Coney in Shaw might just be the next best thing. This neighborhood bar was built as a home-away-from-home for Chicago and Detroit sports fans, complete with Midwestern brews and Chicago dogs (just don't even think about asking for ketchup).