You are here
Where to Find Pumpkin & Other Fall Flavors in Washington, DC
Where to Find Pumpkin & Other Fall Flavors in Washington, DC
Satisfy your pumpkin spice and fall flavor cravings at these restaurants, bakeries and more in the District.
With pumpkin spice rolling out earlier and earlier every year, you can satiate your sweet tooth while bringing full-on pumpkin power before the leaves even change colors. But pumpkin's not the only fall flavor on the block. We've got a roundup of the best places to find tastes of autumn amazingness in DC, from the sweet and cinnamon-y to the savory and spicy. And don't worry, we've thrown some pumpkin in there, too.
District Doughnut
This doughnut shop is DC through-and-through, founded by locals and home to some of the tastiest flavors in the District. This season, traditionalists can get their pumpkin on with the pumpkin-glazed creations. Indulge in other fall flavors like the caramel apple streusel doughnut, crafted with granny smith apples, apple caramel and homemade streusel. And round out your next dozen with the maple butter pecan – a staff favorite featuring a cake doughnut dipped in dark amber maple syrup and butter glaze, then garnished with candied pecans.
749 8th Street SE, Washington, DC 20003
3327 Cady's Alley NW, Washington, DC 20007
5 Market Square SW, Washington, DC 20024
Ice Cream Jubilee
Even after summer ends, this popular ice cream spot in Capitol Riverfront and U Street continues churning out inventive flavors. New this year is Chocolate Barley Beer, featuring melted chocolate in toasted barley ice cream and finished with a splash of local Porter beer from Port City Brewing Company. And back by popular demand is Apple Butter Oatmeal Cookie, which combines a creamy base, fresh apple butter made in-house and a crumble of oatmeal cookie on top.
301 Water Street SE, Washington, DC 20003
1407 T Street NW, Washington, DC 20009
St. Anselm
This fall St. Anselm will feature iconic fall ingredients in classic and preserved preparations throughout the menu from winter squash to batched jams. Former Top Chef finalist Marjorie Meek-Bradley and her team have created a menu that exudes fall – including the delectable grilled fingerling sweet potato salad with a galangal maple vinaigrette, grilled figs and pickled beets.
1250 5th Street NE, Washington, DC 20002
Chaia
Non-traditional taco shop Chaia prides itself on seasonal and fresh ingredients and that's no different this fall. Dive headfirst into the chilly season with the citrus-roasted beet taco topped with ricotta salata, cilantro-lime yogurt and fresh jalapeño. The seasonal menu also features a roasted eggplant taco with goat cheese, salsa de jalapeño crudo and red sorrel. Or, skip the taco and opt for El Bol, a mix of eggplant and zucchini gratin with thyme chili oil and fennel quinoa, plus an order of the vegan-friendly "creamy" corn chowder, topped with corn relish and chili oil.
3207 Grace Street NW, Washington DC, 20007
615 I Street NW, Washington DC, 20001
Osteria Morini
Chef di Cucina Tommy Levandoski taps into the season at Osteria Morini with ingredients like pumpkin seeds, squash, apple and fennel. Savor seasonal dishes such as braciola, a bone-in Hampshire pork chop with pancetta braised cabbage and apple mostarda, as well as an autumnal take on burrata, which comes bedecked with pumpkin seed crumble, granny smith apples and shaved fennel.
301 Water Street SE #109, Washington, DC 20003
City Winery
A self-proclaimed "Urban Wine Country," City Winery in Ivy City is a fully functioning winery featuring intimate concerts and classes on food and wine. The winery's fall menu features autumn flavors like winter squash – get it in the seasonal soup, a creamy concoction topped with lamb, yogurt and cilantro. A smoked pork belly gets an autumn twist, served atop a bed of spiced apples and finally, for dessert, the out of this world bread pudding is served with a dollop of caramel apple gelato.
1350 Okie Street NE, Washington, DC 20002
Colada Shop
Located off the buzzing 14th Street Corridor, this all-day Cuban cafe is famous for serving up empanadas, cocktails and coffee. This fall, you can find new menu items including seasonal coffees like the café arroz con leche, a mix of rice milk, almonds, cinnamon and brown sugar with espresso, and the sweet plantain spice cafe con leche, a blend of ripe plantains, Caribbean spices and espresso.
1405 T St NW, Washington, DC 20009
Lupo Verde Osteria Palisades
Fall is all about comfort, and perhaps the ultimate comfort food is pasta. You'll find plenty of it at Lupo Verde Osteria near Georgetown. But try and save room for dessert because you don't want to miss out on the apple verde – a beautifully crafted outer shell encases apple white whipped ganache, roasted apple center and spiced cake. It's accompanied by cinnamon crumbles, apple compote and a dehydrated apple slice.
4814 MacArthur Boulevard NW, Washington, DC 20007
Dirty Habit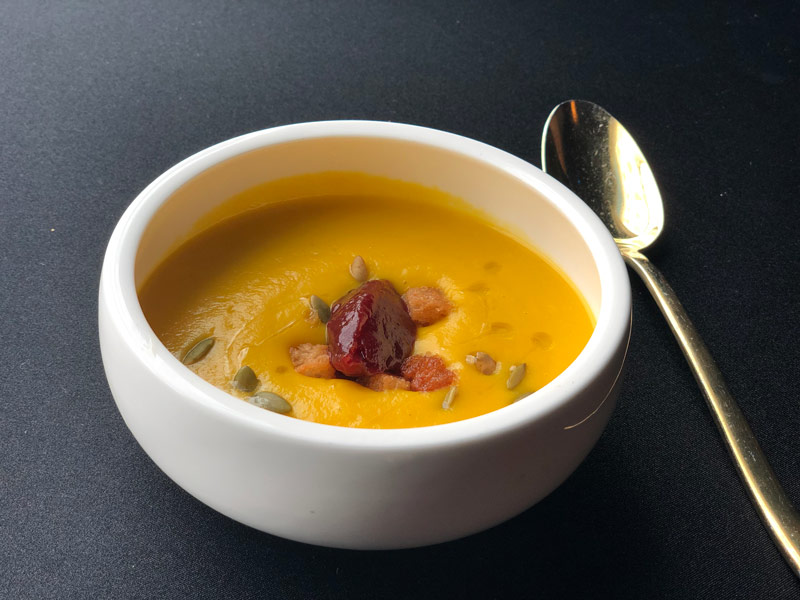 Located inside Penn Quarter's Hotel Monaco, Dirty Habit is known for its edgy design and expansive patio offering cozy vibes in the cooler weather. The restaurant's new fall menu features dishes like the velvety pumpkin soup, flavored with ginger, lemongrass, coconut milk and madras curry. The beautiful creamy concoction is topped with pumpkin seeds and cranberry jam for additional flavor and texture.
555 8th Street NW, Washington, DC 20004
Looking for more of the best culinary experiences DC has to offer? Plan a visit to Union Market or see what's cooking at DC's hottest restaurants.