You are here
20+ Autumn Museum Exhibits You Don't Want to Miss in Washington, DC
20+ Autumn Museum Exhibits You Don't Want to Miss in Washington, DC
The District's museums offer a great lineup of exhibits and cultural experiences throughout the fall.
Arts and culture reign each fall in Washington, DC, as both theaters and museums debut new attractions. Below, we've gathered some of the most intriguing exhibits and displays to be found at DC's museums throughout the season – and check back soon for even more exhibits. Don't forget: many of DC's museums can be visited for free.
• • •
National Museum of American History
1300 Constitution Avenue NW, Washington, DC 20560
Hours: 10 a.m. – 5:30 p.m.
Free Admission
'Elephants and Us: Considering Extinction' – Opens Nov. 1
To honor the 30th anniversary of the African Elephant Conservation Act, the National Museum of American History displays this exhibit that will explore the American relationship with elephants over time. Topics will include U.S. ivory consumption, the decline in the elephant population and this country's efforts to use study, conservation and legislation to battle said decline.
• • •
'Live Dangerously' – Sept. 19 – Jan. 20, 2020
Photographs that depict women and their powerful connection to the natural world will make up this fascinating exhibit at the National Museum of Women in the Arts. Featuring work from preeminent photographers such as Janaina Tschäpe, Louise Dahl-Wolfe and Justine Kurland, Live Dangerously depicts women both at peace with nature and at war with it in their battle against patriarchy. Tschäpe's 100 Little Deaths series will be displayed in its entirety at the museum for the first time.
​• • •
Judy Chicago – 'The End: A Meditation on Death and Extinction' – Sept. 19 – Jan. 20, 2020
The National Museum of Women in the Arts will be the first venue to showcase this new series of work from Judy Chicago, one of the art world's greatest revolutionaries. Through almost 40 pieces of glass and painted porcelain, you can pay witness to Chicago's ruminations on species extinction and human mortality, all framed in her signature style that always challenges the status quo.
• • •
'Women Artists of the Dutch Golden Age' – Oct. 11 – Jan. 5, 2020
The Dutch Golden Age, which took place during the late-17th and early-18th centuries, represented an era of incredible prosperity for the Netherlands, both economically and creatively. While women faced obstacles in breaking through into the art world, many did, and with great success. This exhibit at the National Museum of Women in the Arts will reveal how women artists like Judith Leyster, Maria Sibylla Merian, Rachel Ruysch and Anna Martia van Schurman were able to create masterful pieces in a range of genres while balancing motherhood and familial responsibilities.
• • •
National Gallery of Art
4th Street & Constitution Avenue NW, Washington, DC 20565
Hours: 10 a.m. – 5 p.m., Monday – Saturday, 11 a.m. – 6 p.m on Sunday
Free Admission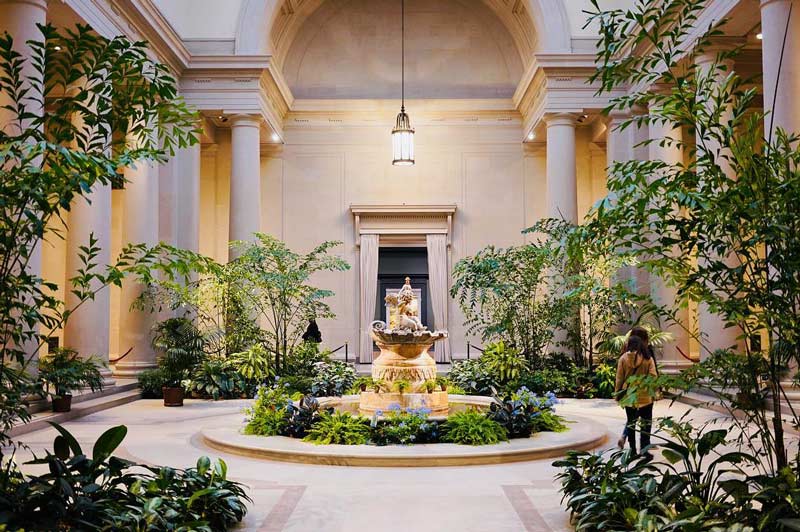 'The Eye of the Sun: Nineteenth-Century Photographs from the National Gallery of Art' – Sept. 8 – Dec. 1
To honor 180 years of photography, the National Gallery of Art hosts this exhibit that will feature roughly 140 images, many of which have never been on view before. Visitors will be able to experience the development of an artistic medium across its first 50 years, from early photos by William Henry Fox Talbot to daguerreotypes to portraiture to landscape imagery and much more.
​• • •
'Verrocchio: Sculptor and Painter of Renaissance Florence' – Sept. 15 – Jan. 12, 2020
Feast your eyes on the first monographic exhibition in the United States to focus on Andrea del Verrocchio, an artist, sculptor, painter and teacher who counted Leonardo da Vinci among his pupils. The exhibit will showcase Verrocchio's materials and techniques while also displaying 50 masterworks, including paintings, sculptures and drawings.
• • •
'The Touch of Color: Pastels at the National Gallery of Art' – Sept. 29 – Jan. 26, 2020
Roughly 70 pieces that use pastels to striking effect make up this exciting exhibit at the National Gallery of Art. The history of pastel, stretching from the Renaissance to today, will accompany pieces that highlight the true potential and versatility of the medium. Artists featured include William Merritt Chase, Paul Huet, Edgar Degas and Claude Monet, among many others.
• • •
'Alonso Berruguete: First Sculptor of Renaissance Spain' – Oct. 13 – Feb. 17, 2020
For the first time outside of Spain, the man considered to be the most important sculptor on the Iberian Peninsula during the Renaissance will receive an extensive exhibition. While Alonso Berruguete's painted sculptures in wood will be the main focus, visitors will also be able to view his remarkable work in drawing and painting, with 40 works displayed in total.
• • •
'Picture Books of the Past: Reading an Old Master Painting' – Through Sept. 30, 2020
In medieval times, before the Bible was widely available, the visual arts were used by the church to enlighten and encourage the illiterate towards religion. Art and religious images essentially acted as "picture books," as paintings helped the citizenry learn theological concepts, parables, biblical content and sets of beliefs. This exhibit at the Museum of the Bible features pieces from the 14th to the 19th century, highlighting trends and diverse cultures and showcasing a visual language that modern readers may struggle to understand.
• • •
Freer|Sackler Gallery
1050 Independence Avenue SW, Washington, DC 20560
Hours: 10 a.m. – 5:30 p.m.
Free Admission
'Sacred Dedication: A Korean Buddhist Masterpiece' – Sept. 21 – March 22, 2020
The Freer|Sackler worked with the National Museum of Korea to bring the oldest surviving gilded wood figure in an informal pose to the District. The sculpture of Gwaneum, recognized as the most popular deity in Korean Buddhism, was carved sometime between 918 and 1392. When the piece was first placed into worship, important texts and symbolic objects were sealed inside, a practice founded on the belief that adding dedication material to a Buddhist sculpture gave it life. The exhibit will showcase recent research and new info about the sculpture itself and what was placed inside, as well as the rituals that went into image consecration in 13th century Korea.
• • •
'Hokusai: Mad about Painting' – Nov. 23 – Nov. 2020
While Japanese artist Katsushika Hokusai is mainly known for his unforgettable and iconic Great Wave Off the Coast of Kanagawa, he composed thousands of pieces during his nearly 90 years on Earth. The Freer Gallery, in honor of the centennial of its namesake's death, will present a wide range of Hokusai's works that were acquired by Charles Lang Freer roughly a century ago. Visitors will be able to experience Hokusai's mastery in woodblock printing, painting, drawing and view his renderings of everyday Japanese life, known as manga.
• • •
'Dewing's Poetic World' – Nov. 27 – Nov. 2020
Thomas Wilmer Dewing's paintings often featured a single female consumed by her thoughts, alone and passive. This exhibit will explore the contradiction between Dewing's works and his social life, which was often filled with dancing, trips to the theater and dinner parties. Through archival photographs, visitors will learn of Dewing's lifestyle, his creative partnership with his wife and his friendship with Charles Lang Freer.
• • •
Hirshhorn Museum & Sculpture Garden
7th Street & Independence Avenue SW, Washington, DC 20560
Hours: 10 a.m. – 5:30 p.m.
Free Admission
'Feel the Sun in Your Mouth: Recent Acquisitions' – Through Feb. 2020
More than 25 artworks acquired by the Hirshhorn over the last five years constitute this display that fills the museum's lower-level galleries. Recent pieces sit alongside avant-garde works from the 1960s and 70s, illuminating similar themes of the poetic, the cosmic and the intuitive. Visitors will see many of these masterpieces for the first time, including notable works from Tatiana Trouvé, Alicja Kwade and John Giorno, as well as images from major Japanese photographers such as Minoru Hirata, Takashi Arai and Miyako Ishiuchi.
• • •
'Lee Ufan: Open Dimension' – Sept. 27 – Sept. 13, 2020
For the first time, the Hirshhorn's 4.3-acre outdoor plaza will be devoted almost entirely to the work of one artist. Lee Ufan, one of Korea's most celebrated creators who rose to prominence in the late 1960s, will present 10 new sculptures from his continuing Relatum series. It's Ufan's largest single outdoor sculpture project in the U.S. and the first time that his work has been exhibited in DC. Each sculpture relates to the Hirshhorn's architecture in some way, creating what Ufan likes to call an "open dimension."
• • •
'Pat Steir: Color Wheel' – Oct. 24 – Sept. 7, 2020
The Hirshhorn Museum will display the largest painting installation to date by the abstract artist Pat Steir. The new suite of paintings will be showcased in the Museum's second-floor inner-circle galleries, spanning the entire perimeter, creating a jaw-dropping color wheel across thirty pieces. Steir has built a four-decade career out of her meticulously crafted but seemingly random paintings, done using her own distinct technique. Color Wheel looks to be one of the most intriguing exhibits of the season.
• • •
'Marcel Duchamp: The Barbara and Aaron Levine Collection' – Nov. 9 – Oct. 12, 2020
In the first of a two-part exhibition on the life and legacy of the legendary Marcel Duchamp, the Hirshhorn Museum will feature more than 35 of the artist's historical pieces, all part of a recent gift from collectors Barbara and Aaron Levine. The exhibition allows viewers to grasp the full arc of Duchamp's career, from his famous readymades to his drawings and prints that inspired countless future artists. Also expect portraits of Duchamp and pieces from his contemporaries and figures he influenced, including Henri Cartier-Bresson, Diane Arbus, Man Ray and Irving Penn, among others.
• • •
Smithsonian American Art Museum
8th Street NW & F Street NW, Washington, DC 20001
Hours: 11:30 a.m. – 7 p.m.
Free Admission
'Picturing the American Buffalo: George Catlin and Modern Native American Artists' – Oct. 11 – April 12, 2020
European artist George Catlin ventured beyond the Mississippi River in the mid-19th century and documented Native American communities that were set to undergo mass migration and removal. Catlin painted scenes and portraits of the Great Plains, depicting the vital buffalo herds in the process. This exhibit will showcase his work, as well as pieces from modern Native artists, highlighting the significance of the buffalo to these communities in the process.
• • •
'Chiura Obata: American Modern' – Nov. 27 – May 25, 2020
One of the most influential Japanese American artists of the 20th century receives an in-depth retrospective. Chiura Obata emigrated to the U.S. from Japan in 1903 and embarked on a seven-decade career that synthesized Japanese and American styles across an array of works, from intimate paintings to scrolls to still lives to woodblock prints. The exhibit will feature more than 150 works and personal effects of Obata's, many on public display for the first time.
• • •
National Portrait Gallery
8th Street NW & F Street NW, Washington, DC 20001
Hours: 11:30 a.m. – 7 p.m.
Free Admission
The Outwin 2019: American Portraiture Today – Oct. 26 – Aug. 30, 2020
The National Portrait Gallery is reigniting the Outwin Boochever Portrait Competition for 2019, which asks artists to submit innovative works in the art of portrayal, resulting in an awe-inspiring variety of pieces. See the work of 46 finalists in the resulting exhibition, which is opened by an announcement of prizewinners. The grand prize is $25,000 and the opportunity to create a piece for the Portrait Gallery's permanent collection. Visitors will marvel at how artists of today use a wide range of tools, devices and media to re-imagine portraiture.
• • •
Recent Acquisitions – Nov. 15 – Aug. 30, 2020
In this new exhibit, the museum will display both historical and contemporary pieces that have recently come into its possession (25 in total), including subjects such as Morgan Freeman, Audrey Hepburn, Philip Glass and Andy Garcia. Each figure displayed has had an impact on the history and culture of America through his or her work.
• • •
Anderson House
2118 Massachusetts Avenue NW, Washington, DC 20008
Hours: 10 a.m. – 4 p.m., Monday – Saturday, 12 - 4 p.m on Sunday
Free Admission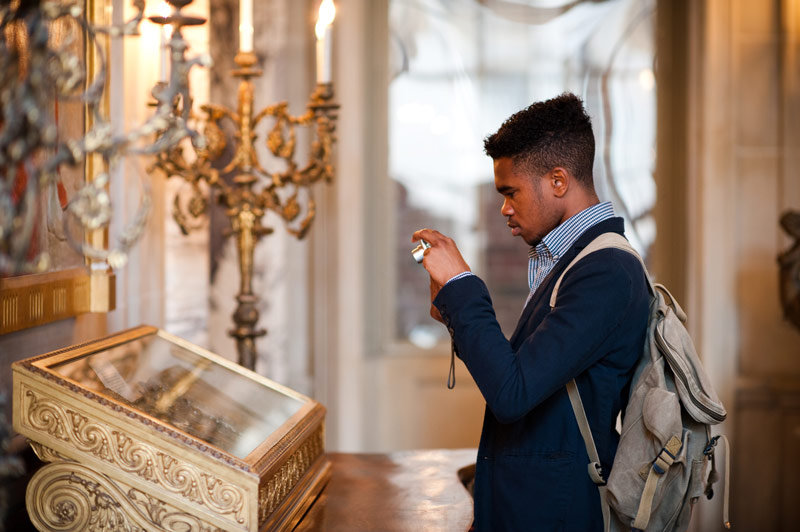 'America's First Veterans' – Nov. 8 – April 5, 2020
While generals and leading officers of the Revolutionary War have received statues and glowing historical reviews, junior officers and enlisted men returned home after fighting to a new republic deeply in debt and unconcerned with appreciating and supporting them after their important service. The Anderson House will display paintings, prints, artifacts and documents that memorialize the men who fought for U.S. freedom and faced countless struggles in re-adjusting to civilian life.
• • •
'Intersections: Los Carpinteros' – Oct. 10 – Jan. 12, 2020
The Cuban artist collective known as Los Carpinteros (made up of Marco Castillo and Dagoberto Rodríguez) merges design, drawing and architecture in addressing social and political issues in post-revolutionary Cuba. This exhibit at The Phillips Collection will feature two 2018 videos from the collective, as well as a selection of LED sculptural portraits. Visitors will observe a portrait of modern Cuba that blends idealism and brutalism, utopia and dystopia, in the collective's powerful works.
• • •
'Bonnard to Vuillard: The Intimate Poetry of Everyday Life' – Oct. 26 – Jan. 26, 2020
This Phillips Collection offers the work of "Nabis" (a Hebrew phrase that translates to "prophet"), a group of European Post-Impressionist artists who started a creative revolution in the 1890s. The collective aimed to break down boundaries between the fine and decorative arts through painting, sculpture, lithography, stained glass and a range of other forms. The exhibit will feature pieces by Pierre Bonnard, Édouard Vuillard, Maurice Denis, Félix Vallotton and others.
• • •
'Alan Karchmer: The Architects' Photographer' – Opens Nov. 9
The way an architectural marvel is depicted through images can color its perception among the public nearly as much as actually standing in front of the structure. The National Building Museum recognizes one of the great architectural photographers, Alan Karchmer, in this exhibit. Karchmer is known for his uncanny ability to capture the essence of a building through a photograph, reflecting his own understanding of the medium (he's accredited as a Master of Architecture himself). The exhibit will feature Karchmer's images, personal photos and artifacts, all serving to illuminate his process and mastery of the form.
• • •
National Museum of African Art
950 Independence Avenue SW, Washington, DC 20560
Hours: 10 a.m. – 5:30 p.m.
Free Admission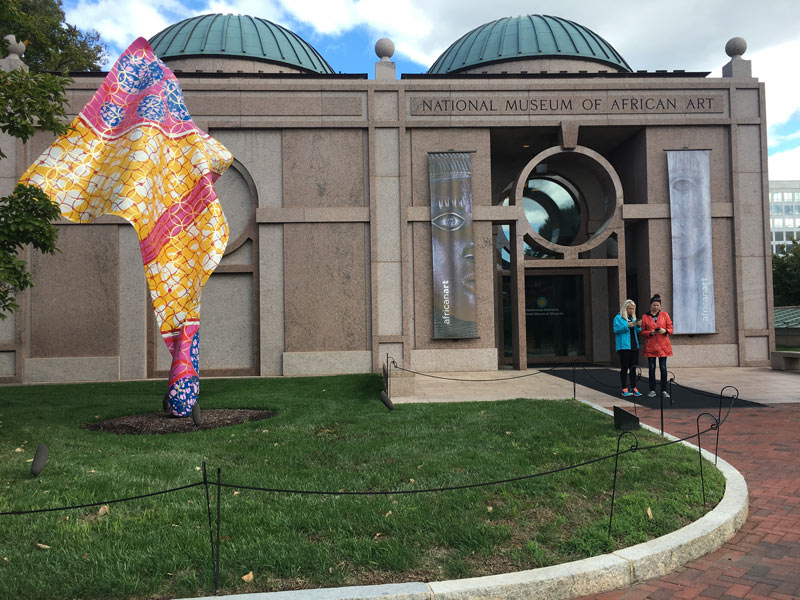 'Heroes: Principles of African Greatness' – Opens Nov. 13
The National Museum of African Art uses pieces from its permanent collection to tell riveting stories of heroism throughout Africa's arts and history. Each piece is partnered with a historic African individual who embodies the principle or action showcased in the work. Along the way, you will discover African heroes both well-known and under-appreciated.
• • •