20+ Things to Do This January in Washington, DC
Plan a mix of virtual and safe, in-person activities this winter in Washington, DC
As you continue to practice social distancing and DC gradually reopens, we've gathered up some things to do this January, including safe in-person activities and virtual events. You can also check out tons of on-demand virtual museum tours, neighborhood tours, TV and movies streaming ideas with a DC bent, DC-inspired music playlists and Washington, DC Zoom meeting backgrounds. Be sure to read our things to do during the week and weekend and check up on what's open around the city as well.

If you're interested in a staycation in the District, make sure to check out our Stay Local DC content and deals.
​• • •

National Bell Festival – Jan. 1
Ring in the new year with the National Bell Festival, which will be conducted virtually for 2021. Streamed events include a kettlebell workout with celebrated personal trainer Luwamé, a brunch with chef Anthony Chittum, yoga with instructor Paige Lichens, a carillon concert and of course, a national bell ringing from 2-2:20 p.m. Every virtual activity is family-friendly and free to all.
Schedule & Links
​• • •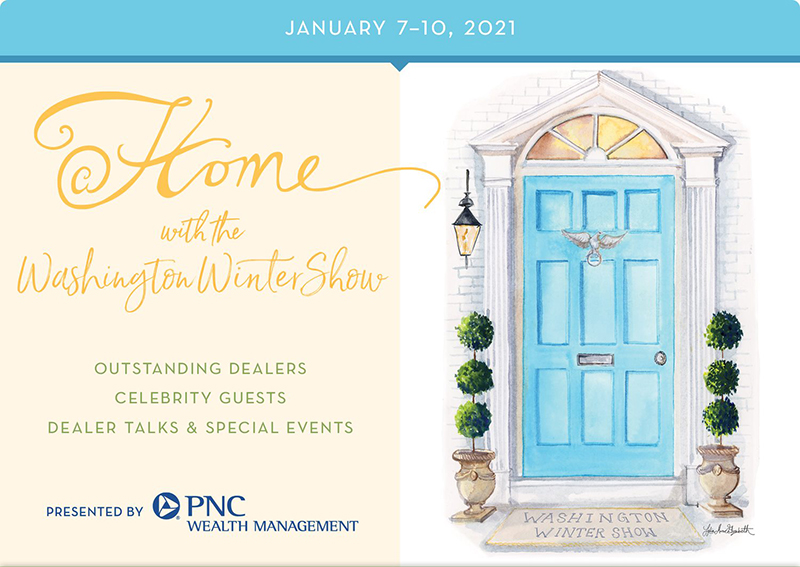 Washington Winter Show – Jan. 7-10
The second longest running charitable antiques show in the U.S. will be held online this year, but will offer no less of the exquisite antiques and fine art than it always does. The four-day virtual, live event will showcase more than 40 dealers from all over the country. Choose from an array of ticket options and bring the wonder of this annual market into the comfort of your home.
Schedule | Tickets
​• • •

Light Yards: 'Stars' – Through Jan. 10, 2021
For the fifth straight year, Yards Park offers a festive light installation at its Sundeck. This year, Australian-based light design sculptors Amigo & Amigo have brought "Stars" to DC. Made from metallic mesh, the stars feature dancing lights, play festive music and provide a space for an illuminated, socially distant stroll. The stars are lit each night from 6-10 p.m. and nearby restaurants will have specials to pair with the activation, which is free to enjoy.
6-10 p.m. nightly | Free admission
Yards Park, 355 Water Street SE, Washington, DC 20003
​• • •

Matthew Bourne's 'Cinderella' – Jan. 15-17
British choreographer Matthew Bourne's inventive take on a classic fairy tale, which dazzled Kennedy Center audiences in 2019, will be available on-demand through Center Theatre Group's Digital Stage platform. This interpretation of Cinderella is set in London during World War II, where our main character falls in love with a handsome RAF pilot before the two are separated by the Blitz. You'll have to see the show to find out how the rest unfolds, but you're sure to witness jaw-dropping production design in this vivid telling of an essential story.
Tickets
​• • •

Winter Restaurant Week – Jan. 18-31
Restaurant Association Metropolitan Washington is taking a different approach to the winter edition of Restaurant Week. This year's promotion runs for two weeks, allowing for even more time to take advantage of specially priced meals, including to-go options, as well as cocktail and wine pairings. Multi-course lunch and brunch menus will be available both in-person and to-go at just $22 per person. Restaurants will also offer dinner menus at $35 and $55 per person, providing multiple price point options for individuals and families.
​• • •

Celebrate the U.S. presidential inauguration
Although festivities will likely be altered this year, we've still got you covered for the upcoming U.S. presidential inauguration of Joe Biden and Kamala Harris, which will be held on Jan. 20, 2021. Many hotels are offering deals for the special occasion, and DC has so much presidential history to explore.
​• • •

'Hi, Are You Single?' – Jan. 25 – Feb. 21
Writer/performer Ryan Haddad will guide you through the gay dating scene in this uproarious comedy from Woolly Mammoth Theatre Company. Ryan has a high sex drive, cerebral palsy and plenty of provocative stories to share. He'll take you through his encounters with drag queens, awkward dates and much, much more. Tickets go on sale in January.
More Info
​• • •

Enjoy a wintry drink in the District
As the weather has cooled down, the drinks at DC restaurants and cafes have warmed up. Get your fix of wintry vibes with an array of warm, tasty offerings that can be found across the city. Spots like Hi-Lawn, The Next Whisky Bar, Blue Duck Tavern and Barrel have all gotten in on the action.

​• • •

Get Virtual at Planet Word
While the museum is temporarily closed, Planet Word is offering an awesome line-up of virtual programs so make sure to check out the museum's calendar.
More Info
​• • •

Share your 2020 story with the National Museum of American History
This Smithsonian museum is asking you to share your 2020 story, part of an effort to create a digital time capsule of a difficult and historic year. There are also online exhibits, in-depth resources for teachers and virtual events every week.
​• • •

Explore the U.S. National Arboretum
The 400-plus acres of the U.S. National Arboretum are full of treasures, from the Capitol Columns to the seven-acre Gotelli Dwarf and Slow-Growing Conifer Collection. This collection is one of the most comprehensive in the world, with 1,400 specimens forming an oasis that is perfect for getting lost in, or simply admiring from the gazebo that overlooks the area. You will be amazed by the great variance and adaptability within the conifer family.
​• • •

Woo your boo with the perfect DC-themed date night
Putting together a special evening for Valentine's Day (or any day, for that matter) is priority number one – and the nation's capital shines as a date night destination with its scenic monuments, award-winning dining scene and outstanding attractions. Even in the time of COVID-19, you can still enjoy a wonderful DC-themed date night, whether safely exploring the town or chilling at home.
​• • •

Take advantage of seasonal deals in the District
DC hotels, attractions and restaurants are offering an array of seasonal deals for you to take advantage of this winter. Book an unforgettable hotel stay and check out what discounts and deals businesses are offering during your visit.
​• • •

Order take-out or delivery from a DC restaurant
Take a wonderful dining experience home by ordering pick-up or delivery from eateries across the DC. The variety available is staggering, as DC's dining scene is as diverse as any. No contact deliveries are available; make sure to specify your preference in your order details, including a drop-off location for the driver.
​• • •

Partake in a stay-at-home activity or game
You didn't think we forgot about games, did you? We've got a plethora of DC-themed activities for you and your boo – or to occupy the kids while mom and dad enjoy their date – including a word search, a board game, Origami, coloring pages and more. There's also our version of social distancing bingo – try to hit every square!
​• • •

Savor some DC hot chocolate
Brace yourselves, winter is here and along with it, the bitter cold. How will you weather the storm? We've got a survival guide for you, and it involves hot, melted chocolate beverages that are sweet, sinfully delicious and sometimes very adult. Choose from tasty selections from Ice Cream Jubilee, Baked by Yael, Colada Shop, Wunder Garten and more.
​• • •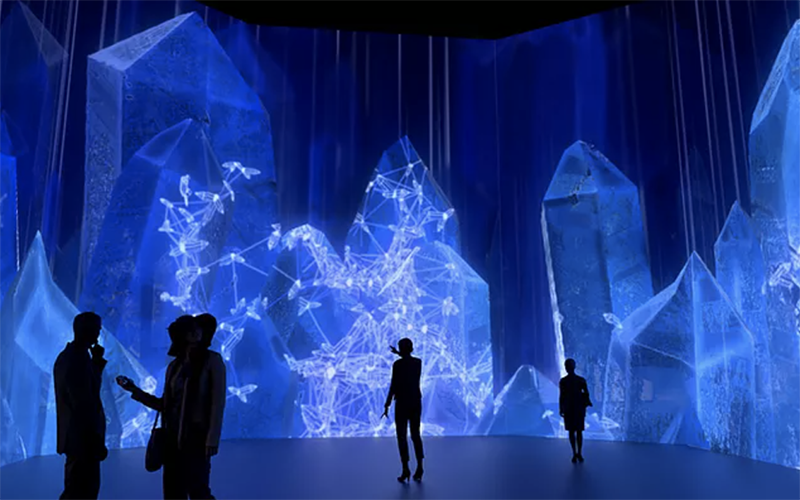 'Crystalline: A Submerge by ARTECHOUSE Experience' – Open through Feb. 28, 2021
ARTECHOUSE closes out 2020 by focusing on Pantone's Color of the Year: Classic Blue. This exhibit dives into blue's connection with earth, crystals and adventure through a wondrous castle. Expect a merging of the surreal and reality as you wander through the castle's rooms, which will be filled with creative curiosities. Make sure to review ARTECHOUSE's COVID-19 procedures before purchasing your ticket to this immersive experience. Consumers can use the code "BLUEDC" for a 10% discount and 40% of proceeds will go to the American Experience Foundation, which enriches the lives of students through inspirational travel experiences and educational opportunities.
Monday – Thursday: 12-8 p.m. | Friday – Sunday: 10 a.m. – 10 p.m. | Tickets | Safety guidelines
ARTECHOUSE, 1238 Maryland Avenue SW, Washington, DC 20024
​• • •

Check out virtual offerings from DC museums
DC has a plethora of museums, including 17 Smithsonians. If you're looking for creative ways to get out of your house and into a new environment without actually leaving your house, we've compiled a list of virtual museum offerings in DC. You can take a voyage to space, see live animals, discover famous women in history or view the Hirshhorn's Sculpture Garden from a whole new perspective. Read on for more!
​• • •

Reserve a Winter Igloo at The Next Whisky Bar – Through March 31, 2021
Located inside the Watergate Hotel, the Next Whisky Bar represents the top of luxury, especially during the winter season. You can reserve a heated igloo on the restaurant's patio throughout the fall and winter, making for a cozy, intimate and safe environment for a night on the town. Each igloo can accommodate up to eight guests and 90-minute seatings are available from Monday through Sunday beginning at 4:30 p.m. While there, order up a Rudolph's Hot Punch, which features Hendricks gin, Cointreau, cranberry, Earl Grey tea, orange, star anise, cinnamon, allspice and clove. There's also the Blitzed Mocha: hot chocolate, coffee liqueur, green chartreuse, whipped cream and sprinkles. A quick reminder to please wear a face covering when not eating or drinking.
More Info | Reserve a spot​
2650 Virginia Avenue NW, Washington, DC 20037
​• • •

Signature Vinyl: A Cinematic Concert – Available through May 6, 2021
A collection of Signature Theatre performers filmed renditions of turntable classics for this special concert film available on-demand online. Hear riveting contemporary takes on unforgettable songs by Marvin Gaye, The Beatles, Stevie Wonder, Elton John, Joni Mitchell and others. Mark G. Meadows and The Movement back up can't-miss performances by Nova Y. Payton, Natascia Diaz, Robbie Schaefer and more at several locations all over the DC area.
Order On-Demand
​• • •

9th Annual Embassy Showcase: Winternational - A Virtual Marketplace – Through Dec. 2021
This yearly celebration of DC's diverse diplomatic community shifts to a year-long, virtual experience for its latest edition. The Winternational marketplace features an embassy-curated collection of visual and decorative arts, jewelry, culinary fare, apparel and hand-crafted items from all over the world available for purchase through Dec. 2021.
​• • •

'RECLAMATION: Recipes, Remedies, and Rituals' – Through Dec. 31, 2021
In this new virtual exhibit from the National Museum of Women in the Arts, nine artists share their own kitchen tables, including videos, photographs, stories and recipes. Food is examined as a creative medium and the connective tissue of intergenerational and intercultural experiences. Through a digital archive, the museum accepts your recipes, anecdotes, photos and reflections from your life, in turn creating a massive, communal exhibit that showcases the wonders of family and communal dining
More Info
• • •
#MyDCcool Photo of the Month
Share your DC photos with #MyDCcool and we may feature you next month!