You are here
14 National Parks to Explore In & Around Washington, DC
14 National Parks to Explore In & Around Washington, DC
Discover stunning landscapes, vital history and eye-catching wildlife at the dozens of National Park Service sites in and around the Washington, DC metro area.
The nation's capital and surrounding areas boast a diverse range of national parks, which of course includes the National Mall and its famous monuments and memorials in the heart of the District (known as the National Mall and Memorial Parks). Any local adventurer knows that a visit to the National Mall is essential, but don't miss out on these other recreational gems in the city and nearby.
1
National Mall and Memorial Parks
One of DC's most popular attractions is in fact a national park. Within its impressive 140-plus acres, you can find America's monuments to founding fathers, civil rights leaders and fallen soldiers, as well as magnificent museums with stunning collections of art and artifacts. America's history will never feel closer than after a stroll through this special park.
2
Chesapeake & Ohio Canal National Historical Park
This park encompasses a historic canal that was built to transport coal from mining towns into DC. Construction began in 1828, but soon the railroad replaced this form of transportation. Today, the C&O Canal, which begins in Georgetown, is a hotbed for recreation and history. The towpath is a 184.5 mile trail running along the Potomac River featuring panoramic vistas and recreational activities while serving as a protected habitat for wildlife. Bicyclists make frequent use of the trail, which stretches all the way to Cumberland, Md.
3
Constitution Gardens
This park was established as a living legacy to the developers of the United States Constitution. Constitution Gardens' 55 acres sit between the Washington Monument and the Lincoln Memorial on the National Mall. The gardens serve as a unique urban nature preserve, where visitors can enjoy peace in the middle of a bustling city.
4
George Mason Memorial Park
Even locals are mostly unaware of this small memorial park dedicated to one of America's founding fathers, George Mason, found on the National Mall near the Jefferson Memorial. An architect of the Declaration of Independence, his likeness is seated on a bench in front of a garden with his important quotes engraved beside him.
5
Frederick Douglass National Historic Site
Abolitionist, statesman and author, Frederick Douglass called Cedar Hill his home for the last two decades of his life. The site was a haven of contemplation where Douglass, a runaway slave himself, fought for the rights of people of color and an end to slavery in America. During your visit to this beautiful home in Anacostia, tour the impressive 21-room Victorian mansion, learn of Douglass' incredible efforts to abolish slavery and take in one of the city's most breathtaking views. Afterwards, walk the eight acres of surrounding grounds as a peaceful respite before returning to the hustle and bustle of the city.
6
Kenilworth Park & Aquatic Gardens
Located inside of Anacostia Park, Kenilworth Aquatic Gardens should be a top destination for plant lovers. Aquatic plants are aplenty, as the gardens are the only national park dedicated to the growth and study of water-based plant life. Voyagers will find thousands of lotuses, water lilies and hyacinths as they wade through this oasis, which includes 45 ponds. Elevated boardwalks also allow visitors to follow trails into the habitat of the Great Blue Heron.
7
Meridian Hill Park
Take some time to explore this urban oasis, with its elaborate gardens, cascading fountains and Joan of Arc statue. Situated near the Columbia Heights neighborhood, Meridian Hill was first a mansion, then a camp for Union soldiers, and eventually, an Italianate-style garden. Today, the park serves as a community gathering place that hosts a drum circle every Sunday.
8
Rock Creek Park
DC's answer to New York City's Central Park (and over twice its size), Rock Creek Park is a vast expanse of rustic bliss, beginning in the northwestern quadrant of the District and stretching into Maryland. With miles of trails for hiking and biking, the possibilities and things to do are endless inside this natural expanse. Rock Creek also features a horse center for those with an equestrian streak. Other recreation options include tennis and golf.
In Rock Creek Park you'll also find the picturesque Peirce Mill. In 1839, the Mill was built to produce power and mill grains. Later, the stone structure was used as a sawmill, orchard and tree nursery with labor provided by slaves. You can step inside the historic building for free throughout the year, and check out milling demonstrations from April through October.
9
President's Park
The White House became the home for the president's family in 1800. Today, the grounds around this iconic landmark are landscaped, protected and maintained by the National Park Service. In addition to serving as a site for protests, President's Park envelops the National Christmas Tree and several military memorials.
10
Capitol Hill Parks
This series of community parks, including Lincoln, Stanton, Marion and Folger parks, were developed to provide leisure resources in the neighborhood of Capitol Hill. Journey to the these parks for outdoor fun, then stop by Eastern Market to purchase some of its delicious eats.
11
Ford's Theatre National Historic Site
Ford's Theatre, where President Abraham Lincoln was assassinated, serves as an active theater and a national historic site documenting Lincoln's life and legacy. Visitors may tour the theater and museum, as well as Peterson House (the house where Lincoln officially perished). You will leave with a better understanding of one of the greatest American presidents.
12
Fort Dupont Park
National Park Service
Named after an old Civil War earthwork fort, Fort Dupont Park features roughly 400 acres perfect for recreation, right next to the Anacostia River. Inside, you will find a long hiker-biker trail (with numerous trails spurring off of it), plenty of space for picnics, park ranger-led Civil War programs and even a beautiful community garden. The park is also famous for hosting summer concerts at its outdoor theater.
13
Great Falls Park
Located in northern Virginia (just a 15-minute drive from DC), Great Falls Park showcases the Potomac River in truly breathtaking fashion. The official Great Falls consist of the flowing river crashing over visually arresting rocks and cliffs, then through what is known as the Mather Gorge. One glimpse of the falls and you'll want to make a lasting mental snapshot. Park visitors can hike along six different trails on the park's grounds, including the River Trail, which is your best bet for spectacular views of Mather Gorge.
14
Theodore Roosevelt Island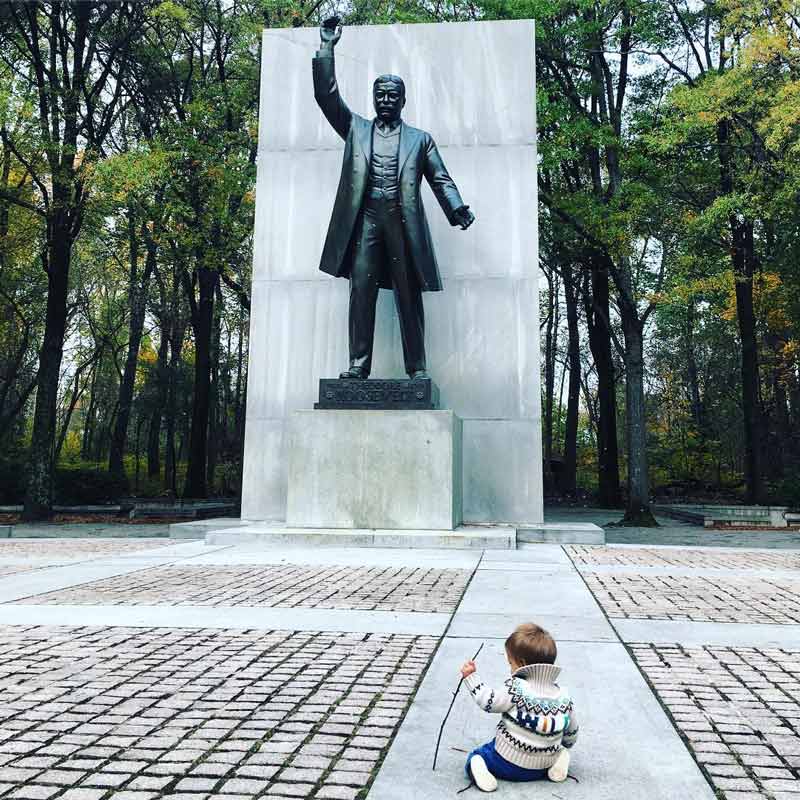 One of American history's greatest nature lovers is memorialized on an island along the Potomac River. Connected to the Virginia side of the river by its own bridge (it's very close to the Key Bridge, and just off the George Washington Memorial Parkway), Theodore Roosevelt Island contains a majestic statue and surrounding memorial dedicated to the 26th president. The island also contains its own forest, miles of trails through woods and swamps, as well as breathtaking scenery.
Still looking to for more outdoor adventures? Check out our favorite free & almost free outdoor activities in Washington, DC.