14 Things to Do This Weekend in Washington, DC
Our end-of-the-week picks include activities for Valentine's Day and President's Day, as well as exciting events, museum exhibits and plays.
Check out our end-of-the-week picks and discover all of the best events, festivals, museum exhibits, concerts and more happening in the nation's capital.
Friday

Celebrate Valentine's Day in the District
DC offers numerous ways to celebrate this special, romantic holiday with your significant other. And if you're going to party solo, we've got options for that as well. From unforgettable dining experiences to can't-miss evening events to delicious treats, read up on how the District is celebrating Valentine's Day - and make sure to check out our date ideas, too.
• • •

Disney on Ice: Celebrate Memories
Capital One Arena offers some first-class family entertainment this Valentine's Day weekend. Disney On Ice will bring classic characters to Capital One Arena. Kids will love seeing Moana embark on a high-seas adventure, Woody and Buzz strut their stuff and the dreams of Disney Princesses come true. Performances run from Thursday through Sunday.
7:30 p.m. | Tickets
Capital One Arena, 601 F Street NW, Washington, DC 20004
• • •

WORLD STAGES – 'Heroine: one female soldier's story'
The Kennedy Center hosts the U.S. premiere of this powerful one-woman show written and performed by Mary Jane Wells. Based on a true story of a lesbian solider in the U.S. Army, Heroine concerns Sgt. Davis, the only woman in her entire company when she enlists. Davis endures a sexual assault from a fellow soldier only to be put in command of a squad alongside him later on, forced into working with him to bring their troops home safely. Recommended for ages 18 and up, this show will make you contemplate the concepts of war, healing and forgiveness like few other productions do. You can catch performances on Wednesday, Thursday and Friday.
7:30 p.m. | Tickets
The John F. Kennedy Center for the Performing Arts, 2700 F Street NW, Washington, DC 20566
• • •
Fitz and The Tantrums
Bursting into eardrums with the 2013 smash hit, "The Walker," Fitz and the Tantrums have kept a firm grip on the attention of pop music fans ever since. In 2016, the group entered a new stratosphere with "HandClap," the lead single off of their self-titled third album. The party-starting act will take to the stage at The Anthem on Valentine's Day, making for one of the month's most exciting concerts and a great way to spend an evening with your significant other.
8 p.m. | Tickets
The Anthem, 901 Wharf Street SW, Washington, DC 20024
Saturday

Mizuno Capitol Hill Volleyball Classic
More than 900 teams will participate in this national tournament that brings together the best junior volleyball teams in the country. From Saturday through Monday, the Walter E. Washington Convention Center will showcase qualifier-style competition in one of the most exciting indoor sports. Three-day spectator passes cost just $38.
Tickets
Walter E. Washington Convention Center, 801 Mount Vernon Place, Washington, DC 20001
• • •

American Ballet Theatre: 'Giselle'
American Ballet Theatre (ABT) has been a part of every Kennedy Center season since 1971. This year, the company will bring a new group of international stars to DC to perform a ballet not taken on by ABT in nearly 15 years. Giselle is the timeless story of a village maiden that features an incredible combination of movement, music and drama in its depiction of loss, love and forgiveness. The show runs from Tuesday through Sunday.
1:30 p.m. & 7:30 p.m. | Tickets
The John F. Kennedy Center for the Performing Arts, 2700 F Street NW, Washington, DC 20566
• • •

DC Defenders at Audi Field
The XFL has returned, this time bringing with it a team that represents DC. The Defenders play their home games at the beautiful Audi Field, which provides one of the best stadium experiences in the area. Head coach Pep Hamilton will look to lead the team to a postseason appearance in their inaugural season. The second home game of their slate takes place this Saturday, as the Defenders take on the New York Guardians. Additional home games will be held on March 8, 15 and 28.
2 p.m. | Tickets
Audi Field, 100 Potomac Avenue SW, Washington, DC 20024
• • •
Mosaic Theater Company Presents: 'Pilgrims Musa and Sheri in the New World' – Final Weekend
Yussef El Guindi, winner of the Steinberg New American Play Award, brings this romantic comedy that addresses cultural boundaries to the Atlas Performing Arts Center. Musa, an Egyptian immigrant, picks up a quirky waitress named Sheri after her shift. After a night together, the two proceed to enter a complex relationship that sees assumptions dashed left and right. The show's run concludes this Sunday.
3 p.m. & 8 p.m. | Tickets
Atlas Performing Arts Center, 1333 H Street NE, Washington, DC 20002
• • •

'Shipwreck: A History Play About 2017'
Set in a farmhouse in upstate New York, this play takes on the 2016 election and its toll on American mythology. A group of liberals have gathered for a relaxing weekend while a son adopted from Kenya is trying to connect with his new family and country. When a dinner invitation from the 45th U.S. president arrives, history is set to be altered. Anne Washburn brings this spellbinding play to the Woolly Mammoth Theatre from Feb. 10 – March 8​.
7:30 p.m. | Tickets
Woolly Mammoth Theatre Company, 641 D Street NW, Washington, DC 20004
Sunday

'Raphael and His Circle'
Raphael is a titanic figure in art's expansive history, helping to define aesthetic brilliance as we perceive it today. In honor of the 500th anniversary of his death, the National Gallery of Art presents 25 of his drawings and prints in an in-depth exhibit that will showcase his tremendous influence on artists that came after him. The work of Raphael's collaborators and followers will also be featured. The exhibit opens Sunday and runs through June 14.
11 a.m. - 6 p.m. | Free admission
National Gallery of Art, Constitution Avenue NW, Washington, DC 20565
• • •

'The King's Speech'
This play, written by David Seidler and making its highly anticipated U.S. debut, inspired a 2010 Oscar-winning film of the same name. The King's Speech concerns King George VI's struggles with a speech impediment and his eventual close friendship with his speech therapist, Lionel Logue. As the Nazi threat looms and civil unrest rages at home, George is forced into the spotlight, making for an intense and touching story. Catch performances Tuesday through Sunday.
2 p.m. & 7:30 p.m. | Tickets
The National Theatre, 1321 Pennsylvania Avenue NW, Washington, DC 20004
• • •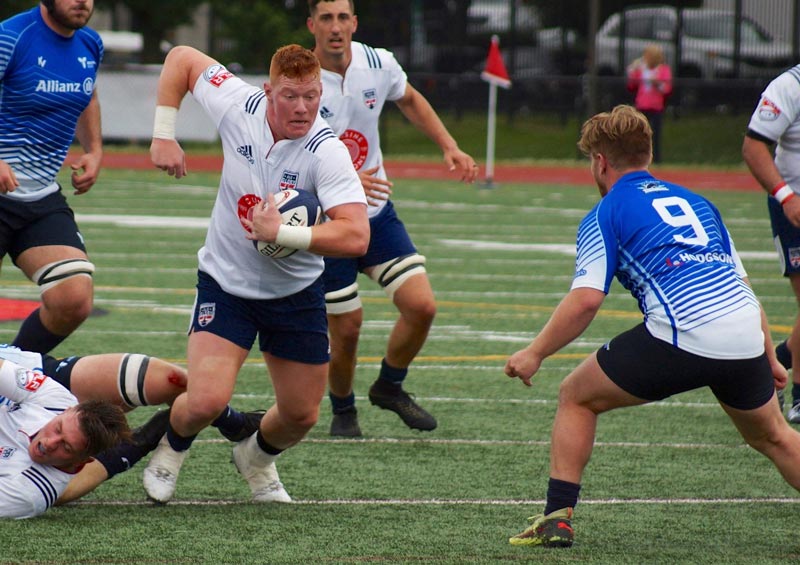 Old Glory DC Home Opener vs. Seattle Seawolves
Old Glory DC Rugby was founded in 2018, but 2020 marks the first time that the team will compete in Major League Rugby. Their first home game at Catholic University's Cardinal Stadium comes this Sunday, when the Seattle Seawolves come to town. Check out intense rugby action all the way through Old Glory's final home game on May 24.
3 p.m. | Tickets
Cardinal Stadium at Catholic University, 620 Michigan Avenue NE, Washington, DC 20064
Monday

Washington's Birthday Celebration
Honor the birth date of America's first president with a free day of festivities at the beautiful Mount Vernon. You can witness a presidential tribute and wreathlaying at Washington's tomb, take in an official observance ceremony, watch a military demonstration, listen to patriotic music, hear stories from previous Washington birthday celebrations and pose in front of a life-sized Lansdowne painting of G.W.
9 a.m. – 5 p.m. | Free admission
George Washington's Mount Vernon, 3200 Mount Vernon Highway, Mount Vernon, VA 22121
• • •

Spend President's Day in the Nation's Capital
As you know, the President of the United States lives in Washington, DC. Now that the obvious has been stated, you should also know that the nation's capital has many ways to engage with presidential history, especially on President's Day. Of course, you can always tour the White House, but DC has plenty of other attractions to visit that do not require reaching out to your Member of Congress.
#MyDCcool Photo of the Week
Make sure to share your scenic photos with us using #MyDCcool, and we may feature yours next week!