You are here
Things to Do This Week in Washington, DC
Things to Do This Week in Washington, DC
Things to do the week of Dec. 28-31
As you continue to practice social distancing and the city slowly reopens, we've gathered up some things to do, including safe in-person activities as well as virtual events going on this week. As always, you can check out tons of on-demand virtual museum tours, neighborhood tours, TV and movies streaming ideas with a DC bent, DC-inspired music playlists, Washington, DC Zoom meeting backgrounds and much more.
In addition, don't miss our Stay Local DC content, which features special deals and safe activities for a DC staycation, as well as our things to do this weekend.
Monday

Winter Glow at Mount Vernon
George Washington's estate will be washed in ambient light in this special holiday illumination that can be enjoyed on two separate weekends in December. The upper garden and greenhouse at Mount Vernon will sport blue and lavender lights, patterns will grace Bowling Green and lanterns will guide the way through the Historic Area. Your journey will also be graced with holiday music and chats with soldiers at a recreated 18th century winter encampment. Aladdin the Camel will be on-hand and artisan-made goods will be on sale, as will food and holiday drinks. Please make sure to review Mount Vernon's COVID-19 protocols before you plan your visit.
5:30 - 8:30 pm | Tickets
George Washington's Mount Vernon, 3200 Mount Vernon Memorial Highway, Mount Vernon, VA 22121
​• • •

43rd Annual Festival of Lights
Held at the Church of Jesus Christ of Latter-Day Saints' Washington D.C. Temple (located just outside of the city in Kensington, Md.), this annual Festival of Lights offers a safe, drive-through format for its 43rd edition. Through Dec. 28, the Temple grounds feature more than 400,000 lights, two outdoor, life-size nativities and Christmas music that you can listen to while tuned to 101.7 FM in your car. For more information and directions, visit the event website.
More Info
Washington D.C. Temple Visitors' Center, 9900 Stoneybrook Drive, Kensington, MD 20895
​• • •
Tuesday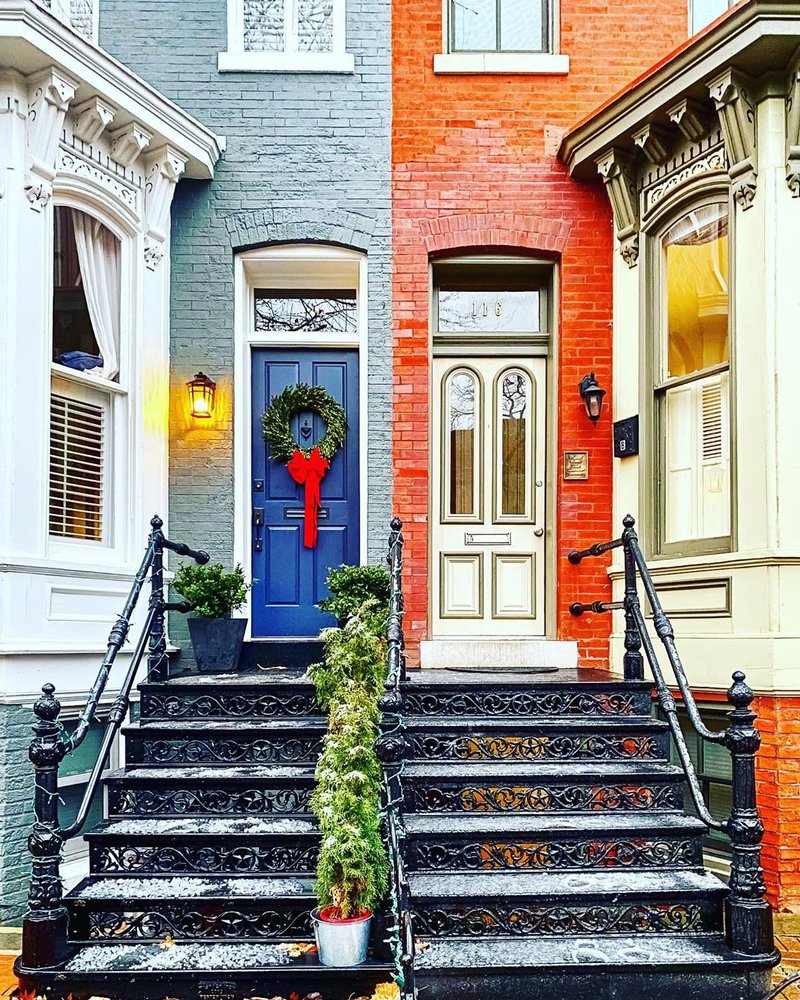 DC Holiday Lights
Neighborhoods throughout the nation's capital are adorning their "main streets" with colorful lights this December. Additionally, vendors in each neighborhood are offering holiday specials and promotions throughout the month to encourage shopping locally. You can enjoy this holiday cheer in Columbia Heights, Mount Pleasant, Dupont Circle, Logan Circle, U Street and Woodley Park, among other locales. Votes can be cast for the best decorated corridor!
​• • •

'This Is Who I Am'
Amir Nizar Zuabi debuts a new play, broadcast and performed live, through the Woolly Mammoth Theatre Company. 'This Is Who I Am', which is available online through Jan. 3, focuses on an estranged father and son, one in Ramallah and one in New York City. The two recreate a beloved family recipe and try to bridge the geographical and generational gap between them, one step and one ingredient at a time.Note that you can enjoy all of Woolly Mammoth's digital events by purchasing their Golden Ticket.
Tickets
​• • •

U.S. Botanic Garden's Online Concerts: Seasonal Music
In the continuation of a holiday tradition, the U.S. Botanic Garden is hosting its holiday concerts virtually this year. On Dec. 22, join JChris – a pop virtuoso who sings in English, Spanish and Portuguese – for holiday classics. The following week, enjoy acoustic jazz renditions of seasonal songs by Veronneau, a decorated duo featuring vocals from Lynn Veronneau and her husband, guitarist Ken Avis.
5:30 p.m. | Live stream
​• • •
>Wednesday​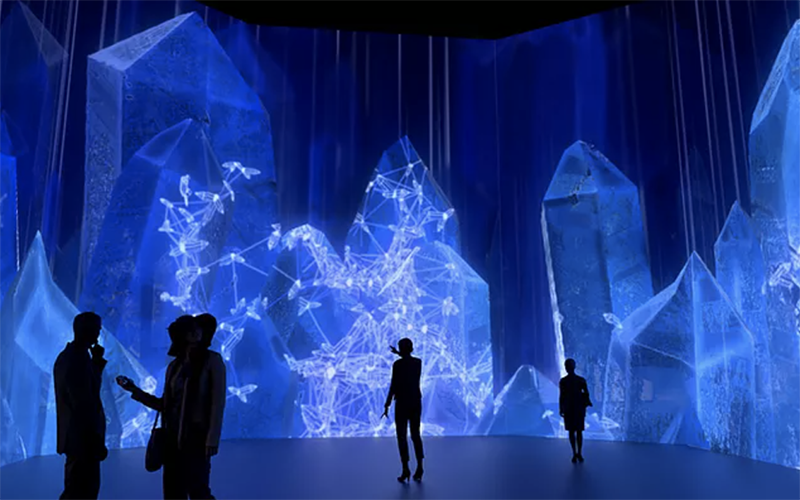 'Crystalline: A Submerge by ARTECHOUSE Experience'
ARTECHOUSE closes out 2020 by focusing on Pantone's Color of the Year: Classic Blue. This exhibit, which runs through Feb. 28, 2021, dives into blue's connection with earth, crystals and adventure through a wondrous castle. Expect a merging of the surreal and reality as you wander through the castle's rooms, which will be filled with creative curiosities. Make sure to review ARTECHOUSE's COVID-19 procedures before purchasing your ticket to this immersive experience. Consumers can use the code "BLUEDC" for a 10% discount and 40% of proceeds will go to the American Experience Foundation, which enriches the lives of students through inspirational travel experiences and educational opportunities.
10 a.m. - 10 p.m. | Tickets
ARTECHOUSE, 1238 Maryland Avenue SW, Washington, DC 20024
​• • •


9th Annual Embassy Showcase: Winternational - A Virtual Marketplace
This yearly celebration of DC's diverse diplomatic community shifts to a year-long, virtual experience for its latest edition. The Winternational marketplace features an embassy-curated collection of visual and decorative arts, jewelry, culinary fare, apparel and hand-crafted items from all over the world available for purchase through Dec. 2021.
​• • •

Light Yards: 'Stars'
For the fifth straight year, Yards Park offers a festive light installation at its Sundeck. This year, Australian-based light design sculptors Amigo & Amigo have brought "Stars" to DC. Made from metallic mesh, the stars feature dancing lights, play festive music and provide a space for an illuminated, socially distant stroll. The stars are lit each night from 6-10 p.m. and nearby restaurants will have specials to pair with the activation, which is free to enjoy. The installation is open through Jan. 10, 2021.
6-10 p.m. nightly | Free admission
Yards Park, 355 Water Street SE, Washington, DC 20003
​• • •
Thursday​

Celebrate New Year's Eve in DC
Check out what winter has to offer in the nation's capital, from free things to do to special holiday deals to the warmest, coziest drinks. If you plan on ringing in 2021 from home, you can check out virtual museum exhibits, play DC-themed games, watch DC-themed movies or order delivery/carry-out from your favorite DC restaurant.
​• • •

Host a virtual wine event with District Winery
Enjoy a safe holiday party at home via District Winery's roster of wine events. Ideal for team building, a company Zoom party or a family get-together, these virtual offerings range from wine tasting to wine blending to seasonal games to add-ons including snacks, cheese, chocolate and gifts. Contact District Winery and figure out the set-up that works best for you.
More info
​• • •
Celebrate New Year's Eve Virtually with A League of Her Own
Enjoy a safe holiday party at home with your favorite bartenders from A League of Her Own in Adams Morgan. Your ticket includes access to dance tutorials, cocktail tutorials and an overall dance party. Tickets range from getting access to just the event to tickets to the event and cocktails from Republic Restoratives. There will also be special guests from partners like Tagg Magazine, Republic Restoratives, FTP Mutual Aid, DC Fray and more!
More info
​• • •
Want to see what's going on this weekend? Check out virtual events and other activities to pass the time.
​• • •

#DCtogether Photo of the Week
Make sure to share your DC photos with us using #DCtogether, and we may feature yours next month!