60+ Things to Do This December in Washington, DC
The summer fun keeps flowing in DC with can't-miss events and activities, including free outdoor concerts, Summer Restaurant Week, Labor Day weekend celebrations and so much more.
Citi Open – Through Aug. 5
Rock Creek Park Tennis Center plays host to this DC summer sporting tradition, now in its 50th year. International tennis stars battle in front of thousands of fans during the week-long tournament. As always, the lineup features talent from all over the world, including Alexander Zverev, Kevin Anderson and John Isner in the men's field and Caroline Wozniacki, Sloane Stephens and Naomi Osaka in the women's field. You can purchase discounted tickets to individual sessions that will lead to a savings of up to $10 per ticket and benefit the American Experience Foundation, which enriches the lives of low-income students through inspirational travel experiences and educational opportunities.
Tickets
Rock Creek Park Tennis Center, 4850 Colorado Avenue NW, Washington, DC 20011
•••
Jazz in the Garden – Fridays through Aug. 24
Kick back and groove to the music with sangria in hand at Jazz in the Garden on Fridays throughout the summer, held in the National Gallery of Art's Sculpture Garden through Aug. 24. An eclectic mix of DC area jazz musicians lend a soundtrack to one of the city's most idyllic scenes set around the sculpture garden's central fountain. This is a free seasonal tradition that you do not want to miss. Check out the lineup and the food and drink offerings.
5 - 8:30 p.m. | Free admission
National Gallery of Art, 6th and Constitution Avenue NW, Washington, DC 20565
•••
Where to Next? Race – Aug. 4
This innovative event comes to the nation's capital for the first time. Where to Next? Combines a race, a scavenger hunt and an interactive city tour into one day of rapid exploration. You'll stop at three or more iconic DC landmarks, two local spots and one mystery location. Prepare for an epic adventure as you navigate your way through Washington, DC. The race will begin at Wunder Garten.
9 a.m. – 1 p.m. | Tickets
Meet up at Wunder Garten, 1101 First Street NE, Washington, DC 20002
•••
International Champions Cup: Real Madrid vs. Juventus – Aug. 4
One of soccer's most popular international tournaments touches down at FedExField in Landover, Md. While full rosters for Real Madrid and Juventus, two of the world's greatest club teams, have not yet been finalized, Cristiano Ronaldo recently migrated from the former to the latter. Regardless of whether the world-class forward plays or not, numerous premier players will take the pitch for a friendly competition at one of the area's finest sporting venues.
6 p.m. | Tickets
FedExField, 1600 FedEx Way, Landover, MD 20785
•••
2018 Summer Spirit Festival – Aug. 4-5
The Summer Spirit Festival returns to Merriweather Post Pavilion to bring two days of outstanding performances to one of the DC's areas most prestigious venues. Day One's roster includes Erykah Badu, Nas, Method Man & Redman and Bilal, among others. Day Two is headline by The Roots, Anderson .Paak & The Free Nationals and Daniel Caesar. You can purchases passes for each of the two days, or go all-out and grab a weekend pass.
Doors open at 1 p.m. | Day One Pass | Day Two Pass | Weekend Pass
Merriweather Post Pavilion, 10745 Little Patuxent Parkway, Columbia, MD 21044
•••
Truckeroo – Aug. 10
Truckeroo brings local food trucks to The Bullpen near Yards Park in the bustling Capitol Riverfront neighborhood to dole out everything from barbeque to crepes to premium, hand-scooped ice cream. About two dozen wheeled food sellers show up, and there are picnic tables and shade to keep things cool. There will also be games, cold beverages and live music to create the full-on summer experience.
4 - 11 p.m. | Free admission
The Bullpen, 1299 Half Street SE, Washington, DC 20003
• • •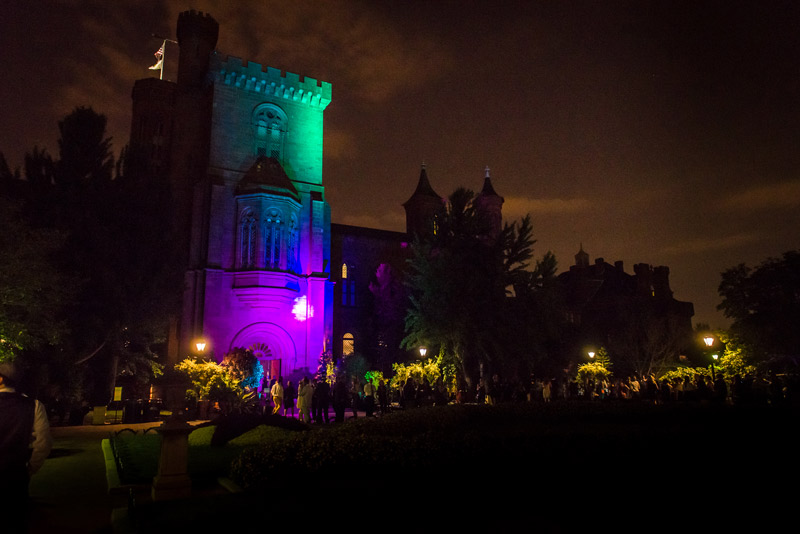 A Garden Party: From Africa to Asia – Aug. 10
Hang out at the beautiful Enid A. Haupt Garden during this awesome Smithsonian at 8 event. You'll have late-night access to the National Museum of African Art and the Sackler Gallery, where you can view art from the African and Asian continents. The garden party will also feature music from DJ As-One, specialty cocktails, curator talks, a GIF photo booth, a cash bar, Asian and African-inspired cuisine and beer samples. Dress in your garden party best!
8 - 11 p.m. | Tickets
Enid A. Haupt Garden, 12 Independence Avenue SW, Washington, DC 20219
• • •
Otakon – Aug. 10-12
Asian pop culture is the focus of this famous convention that takes fandom to a new level. Expect plenty of cosplay, video gaming, film screenings, workshops and celebrity appearances at the three-day celebration inside the Walter E. Washington Convention Center.
Register
Walter E. Washington Convention Center, 801 Mount Vernon Place NW, Washington, DC 20001
• • •
Smithsonian Sleepovers – Aug. 10, 18, 24 & 31
Three Smithsonian museums will provide kids with an unforgettable adventure this July. The National Air and Space Museum's Steven F. Udvar-Hazy Center, the National Museum of Natural History and the National Museum of American History will host Smithsonian Sleepovers. Spots will be in high demand, as kids can explore the entire world of flight at the Udvar-Hazy Center, have an interactive adventure at the Museum of Natural History and discover their country's complex history at the Museum of American History. Ages 8-12 are permitted, and there must be at least one adult present for every three children in any group that registers. No siblings younger than 8 are allowed, and no adults are allowed without children.
Udvar-Hazy Center – Details & Tickets
Natural History Museum – Details & Tickets
American History Museum – Details & Tickets
• • •
Summer Restaurant Week – Aug. 13-19
Enjoy the District's best eats with the summer edition of Restaurant Week, and make sure to read our full neighborhood breakdown. Foodies and deal hunters always swoon over the prix-fixe menus from a cast of DC's best restaurants. Head over to the website to book a table and keep up with participating restaurants, along with can't-miss dishes and deals.
• • •
Washington Nationals vs. Miami Marlins – Aug. 17-19
Enjoy an August weekend at the ballpark as the Nationals take on their rival, the Miami Marlins. The Nats are in pursuit of their fifth postseason appearance in seven years, as All-Stars Bryce Harper, Max Scherzer and Sean Doolittle lead the way. This weekend series will also feature a Hawaiian shirt giveaway (Friday), Game of Thrones Night (Saturday) and a kids' night light giveaway (Sunday). And don't forget to get your exclusive discount and save big on tickets. Just go to the single game tickets page, select the game you wish to attend and enter the promotional code VISITDC to experience one of baseball's most exciting teams in action.
Tickets
Nationals Park, 1500 South Capitol Street SE, Washington, DC 20003
• • •
Ben's Chili Bowl 60th Anniversary Celebration – Aug. 22
Ben's Chili Bowl is a hallmark of the nation's capital, serving its community and customers from all over the world since 1958. On Aug. 22, the legendary restaurant on U Street will celebrate its 60th anniversary with a day-long commemoration, starting with a press conference at 10:30 a.m. A family-friendly street festival will follow from 12-4 p.m. The day concludes with a fundraising gala at Lincoln Theatre beginning at 7 p.m.
10:30 a.m.
Ben's Chili Bowl, 1213 U Street NW, Washington, DC 20009
• • •
Comcast Xfinity Outdoor Film Festival – Aug. 23-26
This four-day celebration of movies benefits the National Institutes of Health Children's Charities. The scenic Strathmore Campus is a fantastic place to enjoy an evening outdoors, so bring along the crew to catch either Coco, Black Panther, The Lion King or Wonder Woman (or all four, since attending is free). You'll also be able to enjoy food from Ridgewell's and ice cream from Ben & Jerry's! Screenings begin at dusk.
Gates open at 7:30 p.m. | Free admission
Strathmore, 10701 Rockville Pike, North Bethesda, MD 20852
• • •
17th Street Festival – Aug. 25
17th Street has so much to see and do, it needs its own day-long festival for you to take in all its wonder. Live music will be present throughout the proceedings, providing a soundtrack as you browse through roughly 100 vendors, including 60 artists displaying fine art, crafts and jewelry. There's even a kid's zone, where the little ones can enjoy a moon bounce, a ball crawl, face painting and games.
12 - 7 p.m. | Free admission (Donations come with exclusive discounts)
17th Street NW from P Street to R Street NW (1500 and 1600 blocks), Washington, DC
• • •
Maryland Renaissance Festival – Aug. 25 – Oct. 21
Check out this unique festival that takes place every year in Annapolis, Md., roughly 50 minutes from downtown DC. Bring along the entire family and celebrate olde times with Renaissance-themed artisans, dazzling performances (including dances and musicians) and plenty of plate-filling food, like turkey legs. You can also dress up in your own costume, if ye so wish. The festival occurs on select dates through Oct. 21.
Tickets
1821 Crownsville Road, Annapolis, MD 21401
• • •
Celebrate Labor Day Weekend
Celebrate summer's last big weekend with free events, outdoor activities and cultural experiences in the nation's capital. We're taking the work out of making your Labor Day weekend plans with more than 20 ways to make the trip a memorable one, from waterfront activities and interactive museum exhibits for the whole family to a free concert on the National Mall and so much more.
'Fun House' – Through Sept. 3
Each year, the National Building Museum opens an exciting new installation on July 4 as part of its Summer Block Party series. This year, reputable design firm Snarkitecture displays its first comprehensive exhibit at the museum, Fun House. The installation features a series of interactive rooms that reimagine the built environment, including both well-known Snarkitecture objects and new concepts. Fun House will be open through Labor Day.
Hours & Admission
National Building Museum, 401 F Street NW, Washington, DC 20001
• • •
'Breaking News: Alexander Hamilton' – Through Sept. 9
With Hamilton running at the Kennedy Center, it's the perfect time to head over to the Textile Museum to check out this in-depth exhibit on Alexander Hamilton himself. Through historical newspapers, you'll discover some of Hamilton's greatest accomplishments and influential life events, including his plans for a National Bank and his endorsement of Thomas Jefferson for president.
Hours & Admission
The Textile Museum, 701 21st Street NW, Washington, DC 20052
• • •
'War On Our Doorsteps' – Through Nov. 3
Civil War photography and its effect on the citizenry of the time is the focus of this special exhibition at the Clare Barton Missing Solders Office Museum. Alexander Gardner's The Dead of Antietam exhibit of photographs shocked observers when it debuted more than 150 years ago, showing the grisly aftermath of the bloodiest day in American history. The museum features the photos and re-creates the powerful impact that these images had on DC residents in this immersive display.
Hours & Admission
Clara Barton Missing Soldiers Office Museum, 437 7th Street NW, Washington, DC 20004
• • •
'No Spectators: The Art of Burning Man' – Through Jan. 21, 2019
The Renwick Gallery hosts the first major national exhibition to focus on the large-scale participatory work from the annual gathering of bohemians who construct a city of 70,000 in Nevada's Black Rock Desert for one week every year. No Spectators has taken over the entire building, even extending outdoors, with sculptures positioned throughout the surrounding neighborhood in parks and on streets in a collaboration between the museum and the Golden Triangle BID. Overall, this extensive exhibit showcases room-sized installations, costumes, jewelry and more.
10 a.m. – 5:30 p.m. | Free admission
Renwick Gallery, Pennsylvania Avenue at 17th Street NW, Washington, DC 20006
• • •
'People, Land & Water' – Ongoing
The vitality of the Department of Interior is relayed through this state-of-the-art exhibition at the Interior Museum. People, Land & Water features more than 75 artifacts, a 14-minute film, a multimedia presentation that details the Department's relevance and history and a timeline that showcases the interplay between the Department's nine bureaus and their missions.
8:30 a.m. – 4:30 p.m. (Monday-Friday) | Free admission
Interior Museum, 1849 C Street NW, Washington, DC 20240
• • •
'Pride and Prejudice' Screening at Dumbarton House – Aug. 1
The 7th Annual Jane Austen Outdoor Film Series, annually held at the elegant Dumbarton House, concludes with this screening of the 2005 film adaptation of Price & Prejudice. For just $6, watch Keira Knightley star in one of the most acclaimed Austen adaptations that received four Academy Award nominations. Dumbarton House's gorgeous outdoor setting will be perfect for the occasion.
7 - 10 p.m. | Tickets
Dumbarton House, 2715 Q Street NW, Washington, DC 20007
• • •
'Spaces: Works from the Collection, 1966-1976' – Opens Aug. 4
Five essential minimal and post-minimal sculptures will each be given their own individual gallery in this new exhibit at the National Gallery of Art. The East Building and its fascinating architecture will be showcased in this arrangement, as the pieces and their appearance will also be shaped by the space around them. Works by Fred Sandback, Robert Morris and Barry Le Va will be featured, among others.
Hours | Free admission
National Gallery of Art, 6th and Constitution Avenue NW, Washington, DC 20565
• • •
'Picturing Alexander Hamilton' – Aug. 5
The National Gallery of Art is in the mood to celebrate Hamilton and its namesake this August. This Sunday lecture entitled "Picturing Alexander Hamilton" will be held in the East Building Auditorium, inviting visitors on a voyage through art that features Hamilton, his family and other essential persons from his life.
2 p.m. | Free admission
National Gallery of Art, 6th and Constitution Avenue NW, Washington, DC 20565
• • •
'Investigating Where We Live' – Opens Aug. 11
The National Building Museum asked local teens how the arts and culture impact their hometown o Washington, DC for this annual exhibit. This year, Investigating Where We Live will highlight local artists and residents while also showing the teens' view of the District through artwork, photography and the written word.
Hours & Admission
National Building Museum, 401 F Street NW, Washington, DC 20001
• • •
'Forty Years of Exhibitions: A Baker's Dozen Memorable Shows' – Aug. 12
The National Gallery of Art has put on a litany of memorable exhibits across the last four decades in its East Building. This Sunday lecture will showcase more than a dozen of them, exhibiting highlights from each, including unforgettable photography, paintings and other images. Senior lecturer Eric Denker will lead the review.
2 p.m. | Free admission
National Gallery of Art, 6th and Constitution Avenue NW, Washington, DC 20565
• • •
'Celebrate: Leonard Bernstein's 100th Birthday' – Aug. 23 – Sept. 23
Leonard Bernstein was one of the most important creatives of the 20th century. The composer, conductor, writer and lecturer will be recognized by the National Portrait Gallery on what would have been his 100th birthday. The gallery will display a portrait of Bernstein in its "Celebrate" space, located in the first-floor north gallery. Visitors will be able to view the portrait through Sept. 23.
11:30 a.m. – 7 p.m. | Free admission
National Portrait Gallery, 8th and F Streets NW, Washington, DC 20001
'Dave' – Through Aug. 19
From the Tony Award-winning team behind Legally Blonde comes a world-premiere musical based on another comedy film. When the President falls ill under less than "presidential" circumstances, a lookalike is thrust into the Oval Office and must regain the trust of the people and First Lady. Dodging scandal and an identity reveal throughout, Dave promises plenty of laughs and unforgettable songs along the way.
Tickets
Arena Stage, 1101 6th Street SW, Washington, DC 20024
• • •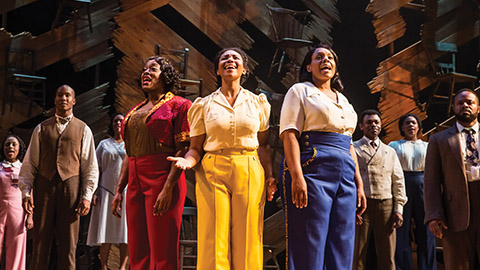 'The Color Purple' – Through Aug. 26
The 2016 Tony Award winner for Best Musical Revival is currently wowing audiences at the Kennedy Center. Based on a Pulitzer Prize-winning novel by Alice Walker that was later turned into an Academy Award-winning film by Steven Spielberg, this musical uses jazz, blues, ragtime and gospel to tell the story of a young woman's struggle towards love and triumph in the American South.
Tickets
The John F. Kennedy Center for the Performing Arts, 2700 F Street NW, Washington, DC 20566
• • •
'Hamilton' – Through Sept. 16
The Tony Award-winning sensation about the Founding Father who came to the U.S. as an immigrant from the British-colonized West Indies to become George Washington's trusted advisor is in the midst of a 14-week run at the illustrious John F. Kennedy Center for the Performing Arts. Lin-Manuel Miranda's musical blends jazz, rap and hip-hop, and transforms the tale of America's first Treasury Secretary with a diverse cast.
Tickets
The John F. Kennedy Center for the Performing Arts, 2700 F Street NW, Washington, DC 20566
• • •
David Cross: Oh Come On – Aug. 2
You may know him as Tobias on Arrested Development, or as the co-lead of Mr. Show, or for his brilliant stand-up comedy. And if you don't know him, this Aug. 2 show at the Warner Theatre is the perfect time to get acquainted with David Cross. Dive deep into the mind of one of America's greatest comedic minds inside one of the city's most historic theaters.
8 p.m. | Tickets
Warner Theatre, 513 13th Street NW, Washington, DC 20004
• • •
Taste of Studio – Aug. 4
Studio Theatre hosts this lavish celebration every year, but 2018 is extra special, as the company is set to embark on its 40th anniversary season. At Taste of Studio, you'll be able to get an exclusive behind-the-scenes look at that upcoming season, in addition to enjoying dishes and drinks from 30 restaurants, community performances, live music and a special birthday extravaganza to start the season right.
11 a.m. – 3 p.m. | Tickets
Studio Theatre, 1501 14th Street NW, Washington, DC 20005
• • •
'The Bridges of Madison County' – Aug. 4 – Sept. 2
The Keegan Theatre hosts this musical adaptation of a classic novel. The play was developed by Jason Robert Brown and Marsha Norman, a Pulitzer- and Tony Award-winning team. The romantic drama concerns a love affair in the American heartland, where bridges must be crossed in order for the relationship to succeed. The 2014 Tony Award winner for Best Score and Orchestrations is sure to leave you breathless this August.
Tickets
The Keegan Theatre, 1742 Church Street NW, Washington, DC 20036
• • •
'Passion' – Aug. 14 – Sept. 23
This Tony Award-winning musical from Stephen Sondheim is set in 1860s Italy. An army captain is transferred to a remote military post where he begins a torrid love affair with his superior's cousin, Fosca. Their infatuation threatens to ruin the soldier's career while also untangling a powerful love triangle. This new staging of Passion at Signature Theatre will bring its vibrant songs to life like never before.
Tickets
Signature Theatre, 4200 Campbell Avenue, Arlington, Va. 22206
George Clinton and Parliament Funkadelic – Aug. 2
George Clinton towers over the American music landscape like few other artists, responsible for the creation of a sound that has echoed throughout popular music for 40 years. With Parliament Funkadelic, Clinton took R&B and soul to a place it had never been before: right into the funky atmosphere. Even at the age of 76 (yep, you read that right), Clinton is still bringing the funk to the masses, including a stop at the 9:30 Club on Aug. 2.
7 p.m. | Tickets
9:30 Club, 815 V Street NW, Washington, DC 20001
• • •
Father John Misty – Aug. 2
With the recent release of God's Favorite Customer, Father John Misty is now four brilliant albums deep into a career that shows no signs of slowing down. The Maryland native (real name: Josh Tillman) combines introspection with absurd wit on each one of his records, crafting songs that hearken back to other songwriting savants like Harry Nilsson, Leonard Cohen and 1970s Bob Dylan. Father John brings his thrilling stage show, which is sure to pack a punch via his songs and often hilarious observations, to The Anthem. Bully, one of punk rock's current champions, will open the show.
8 p.m. | Tickets
The Anthem, 901 Wharf Street SW, Washington, DC 20024
• • •
Roy Ayers – Aug. 3
Roy Ayers is considered the godfather of neo-soul, an icon whose career has now spanned more than four decades. Early in his career, Ayers released a number of jazz albums with Atlantic Records, before helping to pioneer jazz-funk. Ayers has had an immense influence on hip-hop and R&B as both a jazz vibraphonist in the 1960s and as a band leader in the 1970s-80s, crafting classics like "We Live In Brooklyn Baby" and "Everybody Loves the Sunshine". Ayers will be at the renowned Lincoln Theatre on the first Friday in August.
7 p.m. | Tickets
Lincoln Theatre, 1215 U Street NW, Washington, DC 20009
• • •
Cher – Aug. 4, 5, 7, 9, 11-12
The Goddess of Pop will rule at the MGM National Harbor this August. In a career that spans more than 50 years, Cher has had smashing success in all realms of entertainment, from her days starring on television alongside Sonny Bono to her chart-topping musical career to her Academy Award-winning acting career. Hear her legendary catalogue and watch her stunning stage show inside the state-of-the-art Theater at the MGM National Harbor.
8 p.m. | Tickets
The Theater at MGM National Harbor, 101 MGM National Avenue, Oxon Hill, MD 20745
• • •
Bryan Adams – Aug. 5
Bryan Adams achieved his first top-10 hit in 1983 and has been churning out classic songs ever since. The king of the power ballad is responsible for classics such as "Summer of '69," "(Everything I Do) I Do It For You" and "Heaven". One of the area's premier venues, Wolf Trap (located in Vienna, Va.), will host the legend on August's first Sunday.
8 p.m. | Tickets
Wolf Trap, 1551 Trap Road, Vienna, VA 22182
• • •
Shakira – Aug. 11
An international pop star in every sense of the phrase, Shakira will bring her El Dorado World Tour to the Capital One Arena for one night only this August. Fresh off hitting the top of the iTunes charts with El Dorado, the singer/songwriter/world-class performer now has 11 albums worth of smash hits, and you can expect to hear many of them during what promises to be a raucous Saturday night.
7:30 p.m. | Tickets
Capital One Arena, 601 F Street NW, Washington, DC 20004
• • •
Jeremih – Aug. 11
Chicago native Jeremih has served as songwriter, singer and record producer. All three of his albums have received public and critical acclaim, as the multitalented star blends hip-hop, R&B and soul to create his signature sound. A new solo album is in the works, as is a collaboration with PartyNextDoor. Before you hear those, check out Jeremih at the 9:30 Club.
8 p.m. | Tickets
9:30 Club, 815 V Street NW, Washington, DC 20001
• • •
Ra Ra Riot – Aug. 18
Ra Ra Riot exploded onto the indie rock scene in 2008 with The Rhumb Line, a colorful album that featured startlingly original songs, including "Dying Is Fine," the band's breakthrough single featuring a poem by e.e. cummings. Ra Ra Riot has released three more albums since, now a decade into a stirring career. The band will celebrate the 10th anniversary of their debut with a can't-miss performance at the U Street Music Hall.
7 p.m. | Tickets
U Street Music Hall, 1115 U Street NW, Washington, DC 20009
• • •
The Avett Brothers – Aug. 18
The Avett Brothers started out as a little-known North Carolina trio riffing in bluegrass and folk music, rarely using electric instruments, showcasing a mastery of stripped-down sound. Now, the group is a national sensation, using their multifaceted songwriting talents to create beautiful ballads and steady rockers that won't leave your head for days. They'll play at Wolf Trap's Filene Center for the first time on Aug. 18. Expect the house to be packed.
8 p.m. | Tickets
Wolf Trap, 1551 Trap Road, Vienna, VA 22182
• • •
Vetiver – Aug. 23
Songwriter Andy Cabic leads Vetiver, a group that mixes Americana, folk and jam-band rock. The band has released six albums, each guided by Cabic's inventive songwriting. Union Stage, located at DC's stunning new waterfront development, The Wharf, serves as the perfect venue for Vetiver and their laid-back, San Francisco-inspired sound.
8 p.m. | Tickets
Union Stage, 740 Water Street SW, Washington, DC 20024
• • •
Zion y Lennox – Aug. 24
Reggaeton comes to DC's vibrant Echostage for what will be a lively Friday night show. Zion y Lennox have been releasing music together since 2004, and each artist has released numerous solo albums. The Puerto Rican duo has gained a rabid following on the dance music scene, so expect thousands to turn out for what promises to be one of the biggest dance parties of the DC summer.
9 p.m. | Tickets
Echostage, 2135 Queens Chapel Road NE, Washington, DC 20018
• • •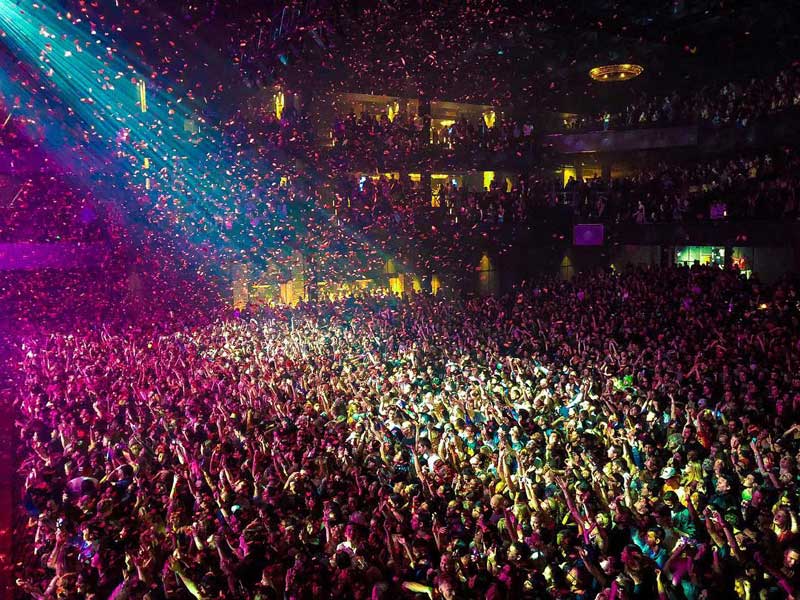 Beach House – Aug. 25
Hailing from Baltimore, Md., Beach House has become one of the most successful indie rock acts of the decade. The duo's atmospheric, shoegaze-inspired songs are led by Victoria Legrand's beautiful, sensuous voice and the guitar and keyboard magic of Alex Scally. Their dream pop has continually evolved from the DIY-leanings of their self-titled debut to the breakthrough of 2010's Teen Dream to this year's 7, the group's seventh album that has been drenched in critical acclaim, much like all their other releases. The Anthem is the ideal setting for Beach House's gorgeous and ethereal live show.
8 p.m. | Tickets
The Anthem, 901 Wharf Street SW, Washington, DC 20024
• • •
New Order – Aug. 28
Formed from the ashes of the legendary Joy Division, New Order ruled Britain in the 1980s. Okay, don't take that literally, but every release from the innovative, dance/pop/punk band was a major event. "Blue Monday" still rocks dance floors to this day, and albums such as Power, Corruption & Lies (which opens with the seminal "Age of Consent") and Technique continue to exercise great influence on dance and punk-flavored rock in 2018. Don't miss your chance to see this legendary act live in concert at The Anthem, as the group does not tour often.
8 p.m. | Tickets
The Anthem, 901 Wharf Street SW, Washington, DC 20024
• • •
#MyDCcool Photo of the Month
Make sure to share your DC photos with us using #MyDCcool, and we may feature yours next month!